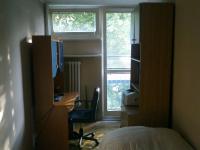 The room is about 10 m2 and has all necessary facilities, such as
furniture or the Internet. The exact list of inventory includes:
- Bed with pillow, duvet and bed sheets,
- Wardrobe and cupboard,
- Desk with the lamp and chair,
- Internet access (wi-fi).

The flat is located on the first floor of the typical polish housing
estate, which was built between 60's and 70's. Rooms are facing the
backyard. A Biedronka supermarket (one of the cheapest stores) is located
just 400 m from the building.

The room is available for the winter semester only (from 1st October to 10th February).
Price:
950 PLN (238 EUR) per month*
* please note that rent in PLN is fixed , and price in EUR is an approximate price and it depends on the current exchange rate. You can pay your down-payment in EUR, however, your next rents will be charged in polish currency (zloty, PLN). Exact price in EUR will be given after we receive your booking form.
The price is fixed and all-inclusive (electricity, Internet, gas facilities and other additional payments are included).